Designer and visionary, Mary Beth Greene, spent many late nights at the kitchen table with paper, tape, and scissors making "paper bags" before she officially launched mb greene in 2015. Simple, functional travelwares were the ultimate goal, and each piece is designed with great attention to detail and crafted with quality. Since launching, mb greene has been featured on Good Morning America, TODAY, InStyle, LA Times, and the Philadelphia Inquirer. Not only that, but Mary Beth's inspirational travelwares are truly a "work of heART". Mb greene proudly supports the M. Bagwell Foundation in loving memory of Mary Beth's sister, Mandy Bagwell (1975-2014), who was a successful and talented artist. Mandy's generosity and talent are remembered with the foundation's mission to link charitable resources to community needs and opportunities. The natural, earthy colorways of mb greene's exclusive collection for Tate + Zoey are meant to be mixed, matched, and enjoyed. We hope this exclusive mb greene piece brightens your travels and inspires you to change lives with a gift!
Connect with Mary Beth Greene!
Elizabeth Olwen is a Canadian print and pattern designer living in Portugal. Inspired by the natural world around her, Elizabeth's work is driven by the desire to leave something beautiful behind with every step she takes. This is why she is so excited about her collaboration with Tate + Zoey, which aims to consider those steps, or footprints, and create products that promote a sustainable, planet-conscious lifestyle. We want you to feel good about making changes in your life that are kind to the planet, while also creating products that bring joy, inspire you, and make your days more beautiful. Here's to honoring nature and adopting new practices that make the world a more beautiful place, together.
Connect with Elizabeth Olwen!
After being diagnosed with thyroid cancer in 2011, Arizona State University student, Jillian Schimmel, began researching wholesome nutrition and reflecting on what makes life worth living. The celebrations and traditions made in the kitchen, cooking or sharing a meal around the table, kept coming to mind: moments sharing food, served on and prepared with beautiful dishes to create special memories. Jillian graduated with a BFA in Ceramics, cancer free, and in 2013 founded Lafayette Avenue Ceramics. Each piece from her exclusive collection with Tate + Zoey is designed to bring you and your family beautiful dishes to create lasting memories.
Connect with Lafayette Ceramics!
Bridgett Rowley, an artist, writer and passionate animal advocate, has received numerous accolades for her animal rescue charity work. In 2013, she founded Canines & Couture to create awareness of the national puppy mill problem and to promote animal adoption. Canines & Couture holds various fundraising events each year, including an annual puppy fashion show. Bridgett designed the Puppy LOVE and Kitty LOVE products exclusively for Tate + Zoey to raise awareness and save more animals.
We hope this exclusive Tate + Zoey gift channels your love for animals and inspires you to change lives with a gift!
Connect with Bridgett Rowley!

Kelly Shatat, the pharmacist-turned-jewelry designer founded Moon and Lola with one mission…to make people happy!
Kelly (Lola), a creative type at heart, turned to designing jewelry to fill the creative void left by her pharmaceutical career. When she began, Kelly sold her jewelry at holiday shows and to local boutiques, but once the brand's signature acrylic monogram necklace was featured in Lucky Magazine in 2011, she dove in with both feet to pursue her dream. From making jewelry on her couch, then on to her garage, and now a studio with full-time staff, Kelly is the definition of Girl Boss!
Connect with Moon & Lola!
Austin, TX native, Kara Whitten is the creative force behind the lifestyle brand, Kailo Chic. A multi-talented creator, Kara designs whimsically bright women's accessories and writes about all things DIY on her popular blog, a Kailo Chic Life. A chemical engineer by trade, Kara became a designer by accident after a fateful trip to a fabric store. While she intended to find fabric for her wedding dress, Kara left with a fabric pattern that turned into a handbag…and a new career. The rest is history. Kara is inspired by bold colors and patterns, and we hope this exclusive Kailo Chic collection brightens your day and inspires you to change lives with a gift.
Connect with Kailo Chic!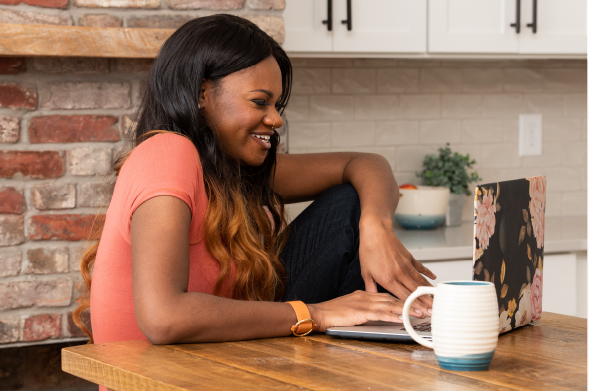 aasdaa